RID Pest are equipped with specialist fogging and misting devices that can traditionally be used to apply pesticides.
Because of the Covid-19 crisis and to help our small business keep on going, we've redeployed some of our specilaist equipment to offer specialised disinfecting and sanitising services for your business or workplace!
Hygiene Treatments
Specialised Disinfecting & Sanitising Services for Businesses, Offices and Public Facilities.
RID Hygiene, powered by RID Pest, provide a professional hygiene treatment service that if effective in eliminating harmful pathogenic microbes on surfaces that have become contaminated with bacteria or viruses. Misting or fogging a disinfectant is an extremely efficient and effective method of reaching the most inaccessible areas where conventional cleaning or spraying can't reach. It's quick, proven, and causes minimal disruption to your business.
The RID team have undertaken extensive training and attained a Certificate of completion in Infection Control techniques for cleaning and offer a professional service that is suited to bolstering your hygiene regime in times where your business can consider re-opening. It's safe, affordable and proven.
BE Proactive
Our treatments are seamless, fast and efficient with flexible appointment times to suit your business. We aim to assist you in preventing an outbreak in your business! It can offer some peace of mind to your customers also!
We can treat all surfaces, rooms, spaces and the air within your premises on a routine basis or once off. Whilst our treatments are best delivered and used used in conjunction with your regular cleaning protocols a once off treatment prior to reopening can be arranged and we'll supply a certificate of treatment that you can display to your clients for peace of mind.
Contact us today for a confidential, obligation free discussion about your needs or to obtain a free quotation.
Bookings: Call 0414 567 977 now!
---
What products do we use?
We offer some variability in our hygiene and sanitation treatments with two key products used: Pure South Surface protectant & Netbiokem DSAM disinfectant.
PureSouth surface sanitiser which combines Quat chemistry with organosilane technology. The organosilane covalently bonds the disinfectant molecules to the surfaces applied and the "quat" active molecule pierces the membrane of any bacteria that comes into contact with. Pure South Surface sanitiser has been found to kill 99.99% of bacteria. Pure South surface sanitiser remains active for at least 24 hours on all surfaces but can last up to 30 days on some surface types. It can offer ongoing protection beyond application!
Netbiokem is a universal disinfectant for outbreak solutions often used in the airline and hospitality industry and is proven to be effective against enveloped viruses, such as Coronavirus and H1N1 Influenza A. it's suitable for use on all surfaces including food preparation areas.
---
Hygiene Treatments
Ongoing or once off, quick, efficient and effective, give us a call today to discuss your needs!
By engaging RID Hygiene you'll be supporting another local, family business right here in Ballarat! We're here to help you get back to business and can assist you in reassuring your customers that you take their health seriously.

RID Pest powers RID Hygiene to offer Ultra Low Volume (ULV) Fogging and Misting Sanitation & Disinfection Services.
RID Hygiene treatments recommended for: Hotels – Schools – Child Care Centres – Aged Care Facilities – Accommodation – Shopping Centres – Restaurants – Public Areas – Gymnasiums – Offices – Shops – Cafes – Pubs – Clubs – Vehicles & Transport
100% Pet, People, and Plant Safe products and application methods.
Hygiene Treatments available in in all areas around Ballarat….. Including: Ballarat, Daylesford, Bacchus Marsh, Ballan, Maryborough, Ararat, Beaufort, Creswick and all areas in between.
Currently we do not offer these service to residential customers as we have limited supplies of PPE and input materials and we feel it more responsible to focus our resources to businesses who depend on such hygiene services.
RID Hygiene can respond to disinfect and sanitise any home, vehicle or premises where a confirmed Covid-19 case has been as a precaution – please seek a referral from your medical practitioner for an urgent emergency curative hygiene treatment.
---
Hygiene Treatment Certificate
Have you spotted a RID Hygiene…. powered by RID Pest Treatment Certificate?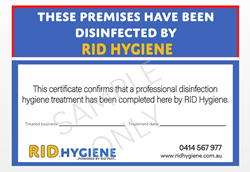 Our certificate is issued for display at any premises we have treated. The certificate will be dated, signed and certify that a hygiene treatment has been completed.
We also issue a complete service report to the business detailing all areas and treatments completed including products used and duration of treatment. Our clients are encouraged to display the certificate for your peace of mind but this is entirely optional.
Treatment certificates should not be displayed for more than 7 days.