Ants are fairly common place in almost all parts of Australia and they play an important role in the ecosystem they exist within, this however, does NOT mean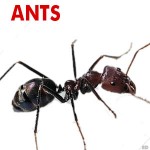 you need to tolerate them in or around your home. With an estimated 3000+ ant species within Australia you're bound to come across them one way or another.
Ants are social insects by nature that typically live in colonies within nests and with so many different types of ants their nesting varies considerably. Some ants can nest within wall cavities in your home, around your garden or even under flooring.
Ants are considered a pest when found in and around buildings and although they are very familiar to most people not many are familiar with the health risks associated with Ants. Ants are known to carry diseases on their bodies including smallpox and pathogenic bacteria like Salmonella. This is of particular concern when ants are commonly found scavenging in your kitchen!
RID Pest Control are able to effectively eradicate ants from your home using professional methods such as baiting, nest location and eradication and general spraying in hard to reach places.
We will stop the ants GUARANTEED and then we'll provide tips and advice to ensure your home remains ant free in the future.
Get RID of em' with RID Pest Control….
For the eradication of small brown ants, coastal brown ants, small black ants, jumper ants, black house ants, pharaohs ants, meat ants and more
Ant infestations can be very difficult to control. Trust Ballarat's most respected pest control operator, RID PEST CONTROL! Grab a free quote by completing the for below.
Free Ant Control Quote