About Us
RID Pest Control Ballarat is your fully licensed and professional pest control service in the Ballarat area and surrounds, we serve all towns from Stawell to Bacchus Marsh and Maryborough and Bannockburn including every town in-between.
We're fully licensed and qualified.
Health Department Approved & Licensed.
The only Ballarat Pest Control company equipped with Thermal Imaging Cameras!
Fast, Friendly and Helpful service.
We'll get RID of 'em GUARANTEED!
We service all areas around Ballarat, Victoria & Western Victoria.
Family owned and operated local to Ballarat!
RID was founded in 1988
David and his team are qualified and experienced pest control experts and are able to assist you with any pest problem BIG or small, domestic or commercial.
RID Pest Control Ballarat has been operating from Ballarat for over 12 years with humble beginnings in 4 separate locations across two states we've built a strong reputation for quality, effective and affordable services. Each member of our team has an average of 25 years experience working in the pest control industry and are all required to annually undergo additional training, learning and professional development to keep up to date with the latest innovations in the pest management industry.
Our clients range from multi-national companies with regulatory pest management requirements, to residential customers experiencing pest infestations that require urgent attention, whatever your pest control needs are RID Pest Control is always available to help by providing you with the RID experience!!
We are specialists in providing environmentally friendly, safe and organic pest control services.
We are also specialist accredited timber pest inspectors with extensive experience managing termite infestations.
Areas We Service
RID Pest Control are based in Ballarat, Victoria. We service vast parts of Western Victoria. The map below (click to open) shows our service area in detail. If you are outside the service area shown, feel free to enquire as if we will service your area because we are expanding our reach as demand increases.
RID Pest Control – Areas Serviced.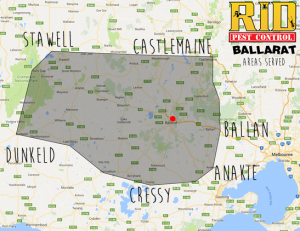 The RID experience!
RID Pest Control are serious about being the best in the business! This means you can expect us to guarantee we'll get RID of em' with the best service at the best price. Read about 'The RID Experience'.
RID Pest Control  | ABN: 12 946 922 387  | LIC # L005060 | Licensed in VICTORIA & NSW