RID Pest Control aim to make paying your invoice as straight forward and easy as possible.
All of our units on the road are equipped with EFTPOS terminals supplied by Westpac. You can make card payments using eftpos, Visa, Mastercard, Apple Pay & Samsung Pay.
Our standard terms are for payment to be made at service completion for all domestic and residential clients, in some circumstances we will issue an account with strict 7 day terms.
All vacate treatments being paid by the departing tenants must be paid before work is commenced.
Pre Purchase Pest Inspections can be pre paid or paid within 7 days by account before the report will be released to the report requester.
Commercial and corporate accounts are provided with a default 7 day term unless otherwise agreed where terms can be provided up to 30 days for routine commercial accounts.
All payments can be made using the details provided on the right side of this page.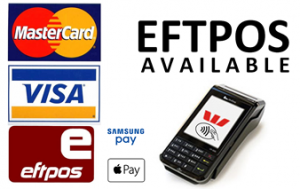 Please provide remittance / payment confirmation by email to accounts @ ridpest.com.au (remove spaces)
Crypto currency Payments – Bitcoin
RID Pest Control is without doubt the FIRST pest control company to accept any crypto currency as payment for services. We accept Bitcoin (BTC) at current market rates as payment for our services.
In order to make payment with Bitcoin please speak with your technician who can provide a receiving address for your BTC transfer.
Direct Deposit
RID Pest Control
BSB: 032 114
Account: 179 586
Reference: Invoice number or your last name.
Credit Card Payments
Please phone us on 0414 567 977 and our friendly office staff will help you with making a payment by credit card over the phone.
Cash Payments
If you prefer, and want us to pick up your cash payment please call us to arrange a pick up date and time. Please DO NOT send cash by mail.
Cheque Payments
We accept cheque payments by prior arrangement only. Please contact us before sending a cheque so we can confirm it will be accepted and we can pause overdue reminders from being sent.
Mail To:
RID Pest Control
PO BOX 1642
BAKERY HILL VIC 3354
Be sure to provide a copy of the invoice being paid in your envelope.