Ants are fairly common place in almost all parts of Australia and are readily found in the Ballarat region.
Ants play an important role in the ecosystem they exist within, this however, does NOT mean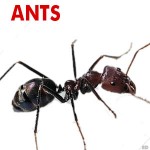 you need to tolerate them in or around your home. With an estimated 3000+ ant species within Australia you're bound to come across them one way or another.
Ants are social insects by nature that typically live in colonies within nests and with so many different types of ants their nesting varies considerably. Some ants can nest within wall cavities in your home, around your garden or even under flooring.
Ants are considered a pest when found in and around buildings and although they are very familiar to most people not many are familiar with the health risks associated with Ants. Ants are known to carry diseases on their bodies including smallpox and pathogenic bacteria like Salmonella. This is of particular concern when ants are commonly found scavenging in your kitchen!
Not only do ants come into your home to feed they may also seek refuge or harbourage in warm,  areas like bathrooms and toilets! We commonly see this through the winter months especially towards the end of Autumn. Ants that move their whole nest inside your home will typically carry little while eggs and pupae with them and congregate in showers, bath tubs, under cabinets and even in wall cavities and roof voids etc. They do this to remain strong, viable and healthy when the climatic conditions outside aren't suitable for them!
RID Pest Control are able to effectively eradicate ants from your home using professional methods such as gel baiting, liquid baiting, granule baiting along with dusting voids, nest eradication and residual non-repellent spraying – we treat ants inside and out for complete control!
We use and recommend Termidor for external ant treatments – The world's number one Termiticide and now an incredibly potent product in professional ant control!
We will stop the ants GUARANTEED and then we'll provide tips and advice to ensure your home remains ant free in the future.
Get RID of 'em with RID Pest Control…. Ballarat Ant Control Experts!
We know ants are particularly bad in certain areas and suburbs of Ballarat which enables us to tailor our treatments to the environmental pressure of your area. For example in Mt Helen we'd apply a treatment to your fence line and gardens even if there aren't any ants present purely because we know that it's more than likely there are ants next door too! Get RID, get a local professional!
For the eradication of small brown ants, sugar ants, black house ants, jumping jack ants, small black ants, pharaohs ants, meat ants, coastal brown ants and any other pest ant species you may find in or around your home.
Ant infestations can be very difficult to control. Trust Ballarat's most respected pest control operator, RID PEST CONTROL! Grab a free quote by completing the for below.
Free Ant Control Quote