Rodents are starting to really seek out the warmth and comfort of your homes at the moment. We're seeing cooler conditions and a growing reliance on heating our homes.
Because we keep our home warmer than outside conditions rats and mice also known as rodents are hitting the jackpot when they stumble across your home! They seek the harbourage and ideal living and breeding conditions within our homes as soon as the weather cools.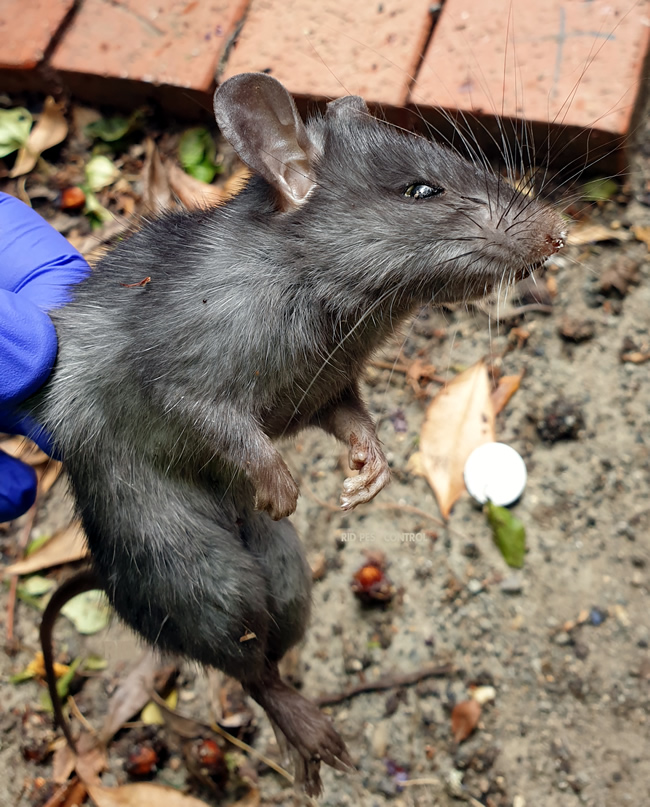 Rats and Mice are living in your roof void, wall cavities and even sub floor spaces this Autumn and Winter! Why? Because it's so much nice there than outside in the harsh cold!
RID Pest Control notice a very distinct change in service requests as soon as April arrives… from noises in the roof to chewed and damaged electrical cables it's the start of rodent season!
It's only going to get more intense as populations migrate to better, warmer and more suitable habitat during the long cold winter. Between April and September rodent activity in Ballarat is at it's peak! With a very pronounced peak in around June/July. We're often asked why they thrive in homes during winter…. perhaps the best explanation comes from Brad, our rodent expert…. his response is often this "think about the heat you generate in your home, it rises, and that heat in the ceiling is kept there by insulation… so rodents take advantage of this and make their homes right on top of you…. and because they have favourable climate, a good place to live and often a good food source nearby they'll breed year round".
Brad is a specialist technician at RID Pest Control and he deals with Rodents every day predominately in commercial and industrial environments where the evidence is often very different to residential settings. Often the only way rodent activity can be identified is when stock is soiled or damage is done in a commercial setting. There is not often anyone about to hear noises in the roof at night like a home!
"Rodents are incredibly agile and advantageous creatures who adapt exceptionally well to the urban environment" says Brad.
Effective rodent control in Ballarat is made easy with RID Pest Control who are industry leaders in the most effective, safe and sound rat and mouse treatments Ballarat.
Give us a call on 0414 567 977 for a fast response!
Frequently Asked Questions

Rodent Control / Rats & Mouse Treatments FAQs

Q: When is the best time to get a rodent treatment?

A: We often feel that residential treatments are best reactive, so when the noises start you get a treatment scheduled quickly! This is more than likely April – July each year. In a commercial situation, for example at your business, factory or restaurant – best to get a program in place before the cooler months!
Q: Is the treatment safe for my children and pets?

A: In short, yes! RID use a range of products that are relatively speaking quite safe especially when applied the way we do it. Some rodenticides ( the poisons that are in bait) can be very harmful to pets, this is common in readily available over the counter products like 'brodifacoum' in Rat Sak products. It take a very small amount to be potentially lethal to a dog. The rodenticides used by RID aren't quite like this! They're still potent to rodents but not so much to pets. The required dose for the average size dog is over 3kg of bait consumption. This just isn't going to happen because as part of our risk assessment we use lockable rodent bait stations as well as strategic placements where pets and people cannot easily get access to baits. The other thing is we won't use enough bait on one site to put your pets at risk! It's also worth noting that our baits contain Bittrex, a human taste deterrent so your children certainly won't eat any. Not that they could get near it anyway! All of that being said, RID can offer trapping and non bait based treatment options!
Q: Do your rodent treatment work?
A: Of course! We guarantee it! We provide a free service period or warranty with all of our treatments which means we guarantee to get RID of rodents! If we don't we're back at no further cost to you! We have specialised training and a solid understanding of the behaviour and habits of rodents and so we are able to guarantee that we can control any rodent problem because we place treatments where they'll be most effective using the latest products not available to consumers.
Q: How long does it take to stop rodents?
A: Typically within 1 week that party in your roof is well and truly over! Where the infestation is quite significant and numbers are larger it can take a little longer…. We often advise 10-14 days for complete control and this varies depending on the severity of the infestation…. based on customer feedback it's almost always under 1 week!
Got rodents in your home or business?
Get Ballarat's most trusted Pest Control Service – RID Pest Control