If for some reason you suspect you have termites, there are some protocols that must always be followed.
If you have discovered crawling insects in your walls that are no more than about 6mm long, are creamy white to an almost transparent grey and some have darker brown heads, there is every chance it will be termites.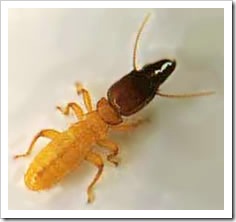 Just to confuse things, if the termites have been present for a couple of years or more, they may have become sufficiently established to create and release alates, or swarmers as they are more commonly known in USA. In this case, alates/swarmers have two pair of wings that are longer than the body, and the body will be dark grey to black.  If you have 'flying ants' appearing from inside your home you should immediately contact a qualified expert at RID Pest Control for identification, advice and treatment!
Termites look nothing like ants, despite the fact they are know colloquially as "White Ants". Usually the activity will be accompanied by tell tale brown mudding material.
Continue reading "What to do if you think you've found termites" →